Trekking the Steps of the Southside Slopes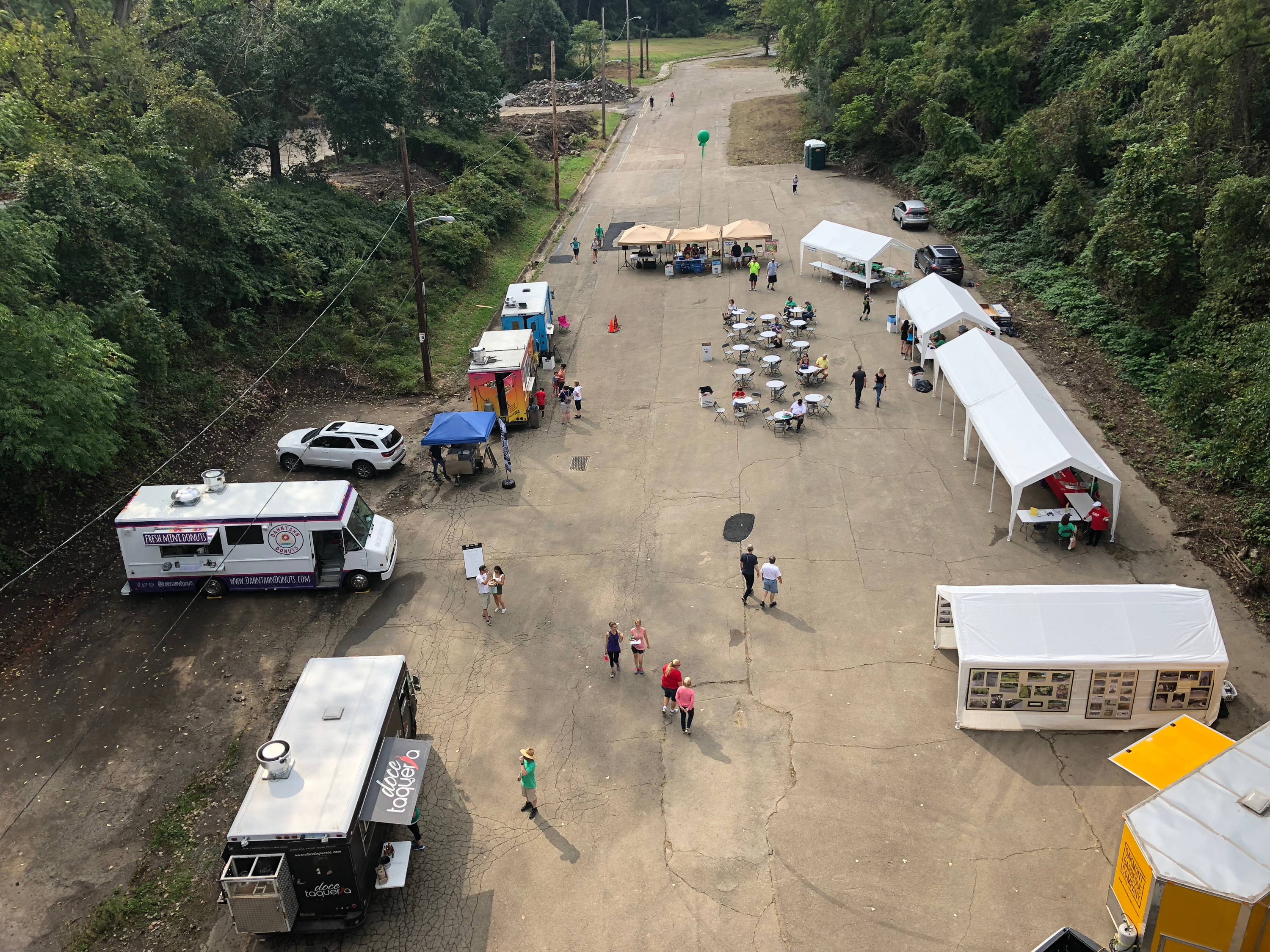 This October, our team participated in the 18th annual Step Trek, held in Pittsburgh's South Side Slopes. This event is a self-guided walking tour of about half of the city steps on the South Side of Pittsburgh.
I wasn't sure what to expect but the proceeds go to maintain Pittsburgh's City Steps; a tremendous network of concrete and wooden access staircases that people rely on daily to get to work and school – so it seemed like a good cause. It was also an opportunity to donate dry goods to the Brashear Association Food Pantry, and get some quality exercise and a new perspective on our beautiful city!
Despite the October event date this took place on a humid 90-degree day, so I was pleased to discover a Giant Eagle representative handing out free bottles of ice cold water, bananas, and apples.
 
A slew of other stations offered up fancy donuts, local BBQ, an opportunity to sign up for future community events, freebies from event sponsors, and a local grassroots poetry project called "steppin stanzas" selling art and bookmarks. A DJ serenaded us while we perused these stalls... then we were ready to get trekkin!  
Two different routes had been mapped out and cleared off by the Southside Slopes Neighborhood Association prior to the Trek, the "black route" and the "gold route" paying homage again to our city's colors (yeah, you know what it is, black and yellow, black and yellow....) We chose the black route to start, but wound up doing both of them.
You really don't realize how many city steps there are on the South Side until you start trekkin 'em!
It took us about half an hour to reach what you might call the "summit" of Steptrek. From the black route we got a birds eye view of Oakland while the gold route offered us a view of Downtown Pittsburgh.
Near the top of the black route an older gentleman popped his head out of a hole-in-the wall bar at the corner of Sterling and Mission St to ask if it was Step Trek day. We excitedly confirmed his suspicions as we passed him by.
"We got more customers when they brought the goats around," he yelled to me as I went down a flight of stairs "bring back the goats!"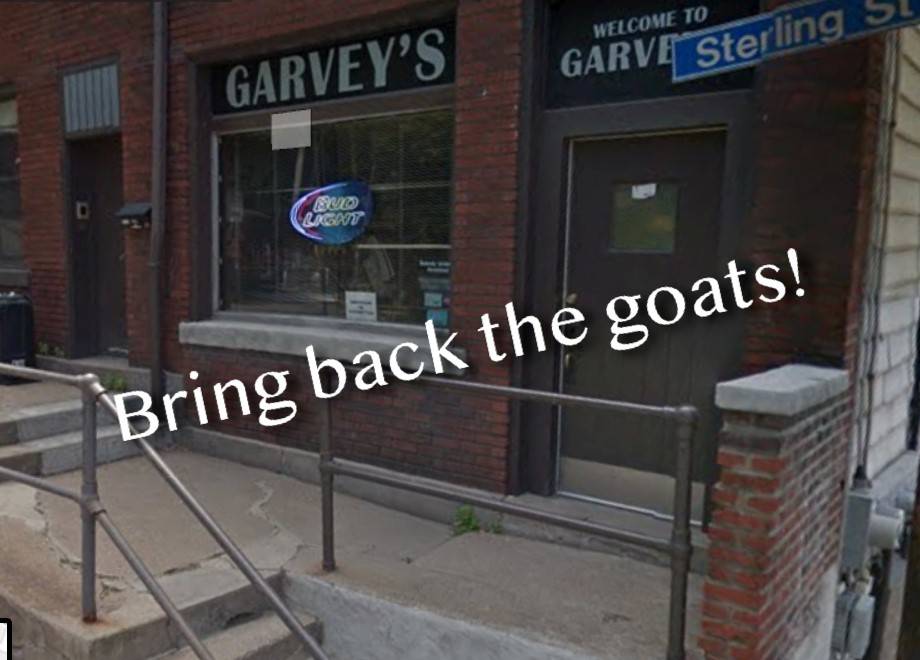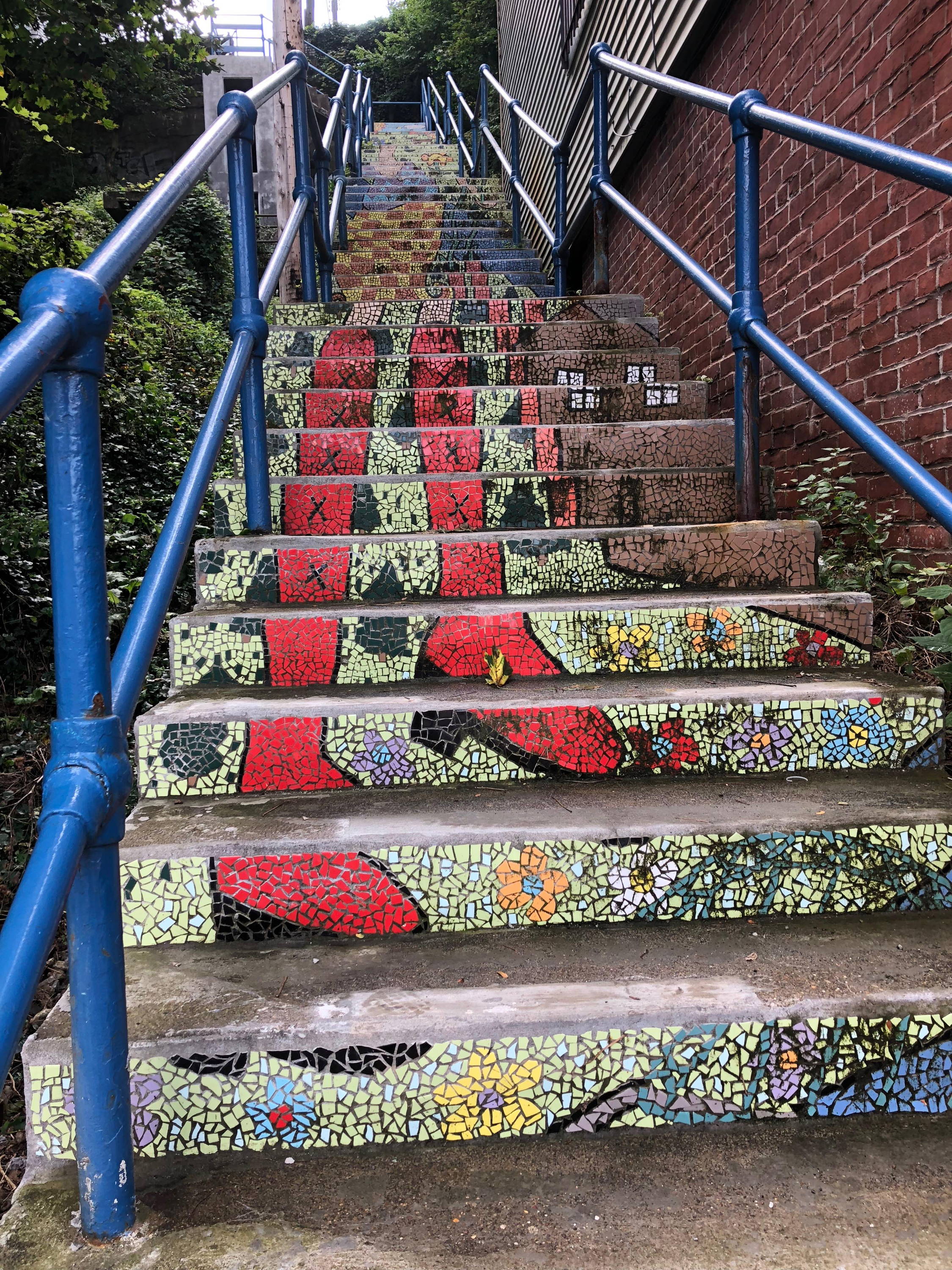 I have no idea why this man was hollering about goats... but this encounter outside of a dive bar tucked behind a flight of public stairs on a steep hill in a residential neighborhood struck me as a special, memorable, and very "Pittsburgh" moment.

From then on we were thankfully on our way down steps, many of which were deep enough for two strides, which even gave us an opportunity to easily jog part of the way. (see our Immortal Tortoise instagram for video proof!)
We had a blast at Step Trek 2018 and we can't wait to come back next year with an even bigger crew (next time as sponsors.)
The event helped us get a new perspective on the city of Pittsburgh through some unique beautiful views, a fun time, and a bit of exploring.
At Immortal Tortoise we believe the success of a small business depends on the success of the community that small business comes from. If you hear of other ways a small business like ours can give back to the Pittsburgh community please don't hesitate to reach out to us!
- Immortal Tortoise -
---