Everything you need to know about CBD
What are the Benefits of CBD?
This article will detail some of the research about cannabidiol or CBD supplements. At this time CBD is being explored by medical professionals and scientific researchers as a treatment for epilepsy, anxiety disorders, substance use disorders, schizophrenia, cancer, pain, inflammatory diseases, and other issues. CBD has been shown to have a range of effects including anti-seizure, antioxidant, anti-anxiety, neuroprotective, anti-inflammatory, analgesic, anti-tumor, and anti-psychotic properties.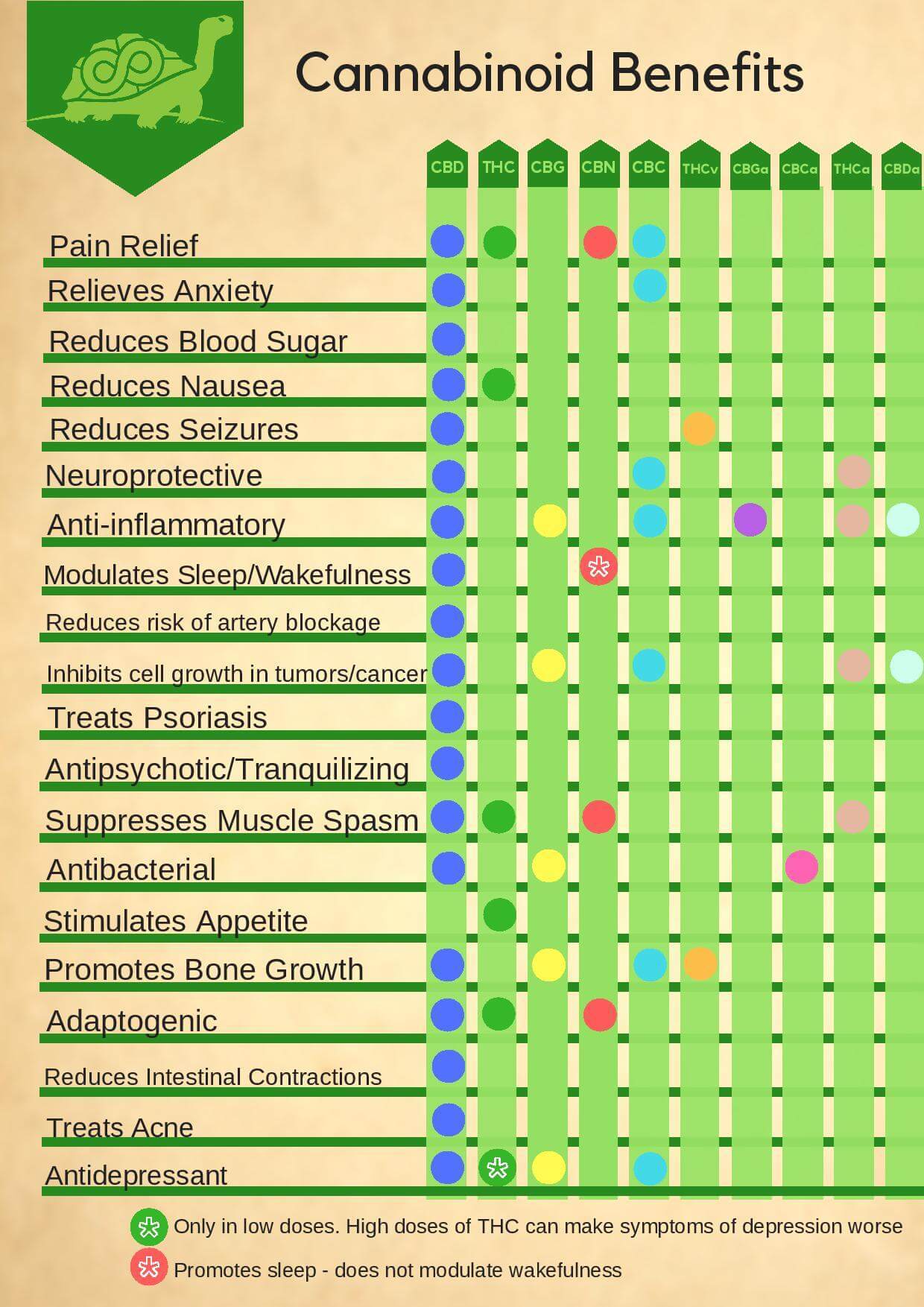 Cannabidiol, or CBD, is a lipid soluble compound which means dissolves in oil rather than water. This makes oil the simplest carrier liquid for CBD supplements.
What are the benefits of CBD Oil? Studies have shown that CBD is up to three times more bioavailable when administered in oil. (1.) This is because oil is readily absorbed by the intestinal lymphatic system. Medicines and herbal supplements are often more potent in oil solutions because they are rapidly transported through the lymphatic system and into the blood stream.
CBD hemp oil benefits the consumer by being affordable, easy to use, and potent.

A CBD tincture is a variation of CBD hemp oil where the cannabinoids and terpenes are extracted from hemp plants in alcohol. This concentrated alcohol cannabinoid CBD extract is then mixed with oil to increase the beneficial effects and aid in lymphatic absorption.

CBD tincture benefits the user by increasing sublingual absorption, which means more of the CBD makes it into your blood stream. These tinctures also allow for a greater concentration of cannabinoids and beneficial plant compounds per serving.
CBD edibles may allow users to measure a more consistent dosage for themselves than more difficult to measure CBD tinctures and oils.

Consumers will want to allow CBD edibles to slowly dissolve in their mouths to increase the sublingual absorption of cannabinoids. Simply eating them like candy will lead to decreased effects or require greater doses because less of the medicine makes it into your blood stream.
The medicinal benefits of CBD oil are numerous and varied. Indeed, there are so many CBD health benefits that this topic will span several sections and I've included a table of contents to help navigate these issues.

Before we get started it is important to note that you should talk to your healthcare practitioner before beginning any supplement. CBD products aren't approved by the U.S. Food and Drug Administration (FDA) for any medical condition.
CBD Hemp products are currently treated as health supplements and aren't regulated for purity and dosage like prescription medications. That is why you should always look for companies that offer 3rd party lab testing and allow you to verify the results of the test with the third party lab. You can scan the QR code at the top of our lab tests to verify our results.
CBD Oil Benefits for Pain
Chronic pain has become a major public health issue and current drug interventions are contributing to the opioid epidemic. It is long past time to acknowledge the benefits of using cannabinoids to treat pain.

In 2015, the director of the National Institute on Drug Abuse testified before the US Senate that the anti-inflammatory effects of CBD contribute to analgesic effects.

Cannabinoids have been studied for their ability to reduce pain and inflammation associated with osteoarthritis and rheumatoid arthritis. One rodent study concluded that topical CBD was a potential effective treatment for pain and mobility problems caused by arthritis. (5.)
CBD benefits for pain is still an under-researched issue. An overwhelming majority of anecdotal accounts describe relief from menstrual cramps, nerve pain, back pain, and even pain associated with injury and blunt force trauma from taking CBD supplements. We suspect more research will be forthcoming in the next few years as cannabis continues to gain popularity.

All we can suggest is that you give it a try and see what works for you.
CBD Oil Benefits for Anxiety
Anxiety is one of the areas where CBD really shines as a potential treatment both anecdotally and according to research. We definitely recommend cbd oil for anxiety.
 
A range of both human and animal studies have demonstrated the therapeutic efficacy of CBD at reducing both behavioral and physiological (e.g., heart rate) measures of stress and anxiety. (6) (7) (8)
In one study designed to investigate Post Traumatic Stress Disorder, CBD improved "consolidation of extinction learning." In a certain sense CBD was able to help patients forget their trauma. (9) (without disrupting normal memory function.)
CBD Oil Benefits for Anxiety Caused by High THC Marijuana Consumption
Who would have thought that the miracle cure for too much cannabis is also cannabis? Is there anything this plant can't do?

Additional CBD supplementation can benefit medical marijuana users in two key ways. First, CBD has been shown to reduce marijuana associated intoxication, panic, anxiety and tachycardia. (2.) Second, CBD has been shown to prolong the half-life of THC.
Those medicinal cannabis users who rely on hefty doses of THC may want to keep an extra CBD tincture on hand to help them calm down if they consume too much marijuana and help their medicine last longer.
Click here to find out if CBD could make you fail a drug test.
 
CBD Oil Benefits for Cancer
Of course, no health supplement is known to cure cancer.

Don't listen to anyone who claims to know what the "best cbd oil for cancer" is. It's marketing. We don't know enough about CBD for cancer to even advise things like dosage. It certainly isn't a miracle cure.

However; CBD has been explored as a valuable addition to cancer treatment primarily due to palliative effects and improvements to quality of life. CBD can lower the inflammation that leads to pain thus relieving some of the pain caused by cancer. CBD can also relieve nausea and vomiting that may be caused by chemotherapy and opioid pain killers.
It has also been shown to reduce the rewarding effects of morphine and reduce cue induced heroin seeking in animal models (15.) These studies may indicate that CBD can help patients who temporarily require pain intervention avoid opioid addiction after treatment.

When people talk about CBD being "anti-cancer" they are mostly getting excited about early research. Animal and cell culture studies have shown CBD to reduce cancer cell viability, increase cancer cell death, decrease tumor growth, and inhibit metastasis of cancers. (10) (11) In one study, mice with pancreatic cancer survived nearly three times longer when their chemotherapy treatment was combined with CBD. (14)
It is important to note that there is a big difference between animal and cell culture studies and human clinical trials. The former do not always translate into the latter. We were not able to find any ongoing clinical trials of CBD as a treatment for cancer in humans.
There are a few case reports of cannabis as a pediatric anticancer treatment. (12)(13) These are not specific to CBD.
CBD Oil Benefits for Diabetes
This is another area where unscrupulous retailers have made wild claims about a "cure."

As far as we know there are no herbal supplements that can cure diabetes.
 
There are several promising animal and cell culture studies showing that CBD has some effect on diabetes. However; little to no human clinical data exists.
In several mouse studies CBD was shown to reduce the incidence of diabetes from over 80% to around 30% in non-obese diabetic mice. (17) (18) Since many of these mice had diabetes before they were treated with CBD and were subsequently "cured" people have excitedly claimed this means cannabis cures diabetes.

One study concluded "Our data strengthen our previous assumption that CBD, known to be safe in man, can possibly be used as a therapeutic agent for treatment of type 1 diabetes."
 
The endocannabinoid system plays a major role in glucose metabolism (18.) Since CBD is a known endocannabinoid regulator it is possible that CBD may help balance glucose metabolism. We look forward to emerging research clarifying what role CBD may play in the treatment and prevention of diabetes.
Text
Full Spectrum Hemp CBD Benefits
Cannabis extracts are proven to have many therapeutic effects. The majority of these beneficial effects are caused by CBD, but not all of them.

The benefits of THC are well known. However; other minor phytocannabinoids in cannabis contribute the therapeutic value of cannabis (3.) Cannabichromene (CBC) is the third most prevalent cannabinoid in cannabis, after THC and CBD. CBC is also anti-inflammatory (4.) and analgesic.
Cannabis flavonoids in whole cannabis extracts also contribute useful activity (3.)
Terpenes are the main therapeutic component of plant essential oils. Terpene profiles are responsible for the unique smell and taste of plants and flowers. There are thousands of medicinal terpenes, but the primary cannabinoid terpenes are:
 
Limonene

Pinene

Myrcene

Linalool

Delta-3-Carene

Eucalyptol

Beta-Caryophyllene

Humulene

Borneol

Terpineol

Immortal Tortoise offers full spectrum hemp tinctures that contain all of the beneficial cannabinoids, terpenes, and flavonoids found in cannabis sativa. Nothing has been removed.
By law this product must contain less than .3% THC to be considered a hemp product and not a marijuana product. Our tinctures are safely below that percentage and lab tests are available for every product showing the exact cannabinoid and terpene profiles.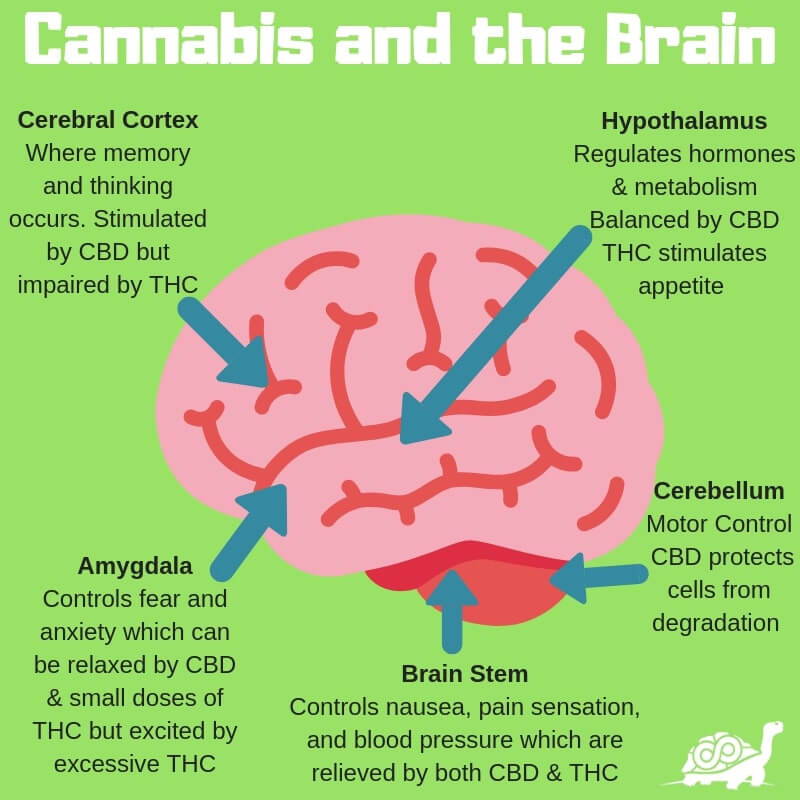 ---
1. American Journal of Translational Research 2016; 8(8): 3448–3459.   
Dietary fats and pharmaceutical lipid excipients increase systemic exposure to orally administered cannabis and cannabis-based medicines
Atheer Zgair, Jonathan CM Wong, Jong Bong Lee, Jatin Mistry, Olena Sivak, Kishor M Wasan, Ivo M Hennig, David A Barrett, Cris S Constantinescu, Peter M Fischer, and Pavel Gershkovich
2. Therapeutics and Clinical Risk Management. 2008 Feb; 4(1): 245–259. Published 2008 Feb. Cannabinoids in the management of difficult to treat pain
Ethan B Russo
3. Journal of Cannabis Therapeutics. 2001;1:103–32. McPartland JM, Russo EB. Cannabis and cannabis extracts: Greater than the sum of their parts?
4. Life Sci. 1980;26:1991–5. Wirth PW, Watson ES, ElSohly M, et al. Anti-inflammatory properties of cannabichromene.
5. Eur J Pain. 2016 Jul; 20(6): 936–948. Published online 2015 Oct 30. doi: 10.1002/ejp.818 D.C Hammell, L.P. Zhang et al., Transdermal cannabidiol reduces inflammation and pain-related behaviours in a rat model of arthritis.
6. Psychopharmacology (Berl) 100:558–559 (1990). Guimaraes et al. Antianxiety effect of cannabidiol in the elevated plus-maze.
7. Behav Brain Res 207:105–111(2010). Lemos et al. Involvement of the prelimbic prefrontal cortex on cannabidiol-induced attenuation of contextual conditioned fear in rats.
8. Neuropsychopharmacology 2011;36:1219–1226. Bergamaschi et al. Cannabidiol reduces the anxiety induced by simulated public speaking in treatment-naive social phobia patients.
9. Psychopharmacology (Berl). 2013 Apr;226(4):781-92. Das et al. Cannabidiol enhances consolidation of explicit fear extinction in humans.
10. J Neuroimmune Pharmacol. 2015 Apr28. [Epub ahead of print] McAllister et al. The Antitumor Activity of Plant-Derived Non-Psychoactive Cannabinoids.
11. J Neuroimmune Pharmacol. 2015 Apr28. [Epub ahead of print]. McAllister et al. The Antitumor Activity of Plant-Derived Non-Psychoactive Cannabinoids.
12. Case Rep Oncol 6 (3): 585-92, 2013. Singh Y, Bali C: Cannabis extract treatment for terminal acute lymphoblastic leukemia with a Philadelphia chromosome mutation. CBD study.
13. Childs Nerv Syst 27 (4): 671-9, 2011. Foroughi M, Hendson G, Sargent MA, et al.: Spontaneous regression of septum pellucidum/forniceal pilocytic astrocytomas--possible role of Cannabis inhalation.
14. Oncogene 30 July 2018. R. Ferro, A. Adamska et al., GPR55 signalling promotes proliferation of pancreatic cancer cells and tumour growth in mice, and its inhibition increases the effects of gemcitabine. CBD study.
15. Addict Biol. 2013;18(2):286–96. Katsidoni et al. Cannabidiol inhibits the reward-facilitating effect of morphine: involvement of 5-HT1A receptors in the dorsal raphe nucleus.
16. Autoimmunity. 2006 Mar;39(2):143-51. Weiss L. et al., Cannabidiol CBD lowers incidence of diabetes in non-obese diabetic mice.
17. Neuropharmacology. 2008 Jan; 54(1): 244–249. Weiss L. et al., Cannabidiol CBD arrests onset of autoimmune diabetes in NOD mice.
18. Diabetologia. 2008 Aug;51(8):1356-67. doi: 10.1007/s00125-008-1048-2. Epub 2008 Jun 18. Di Marzo. The endocannabinoid system in obesity and type 2 diabetes.