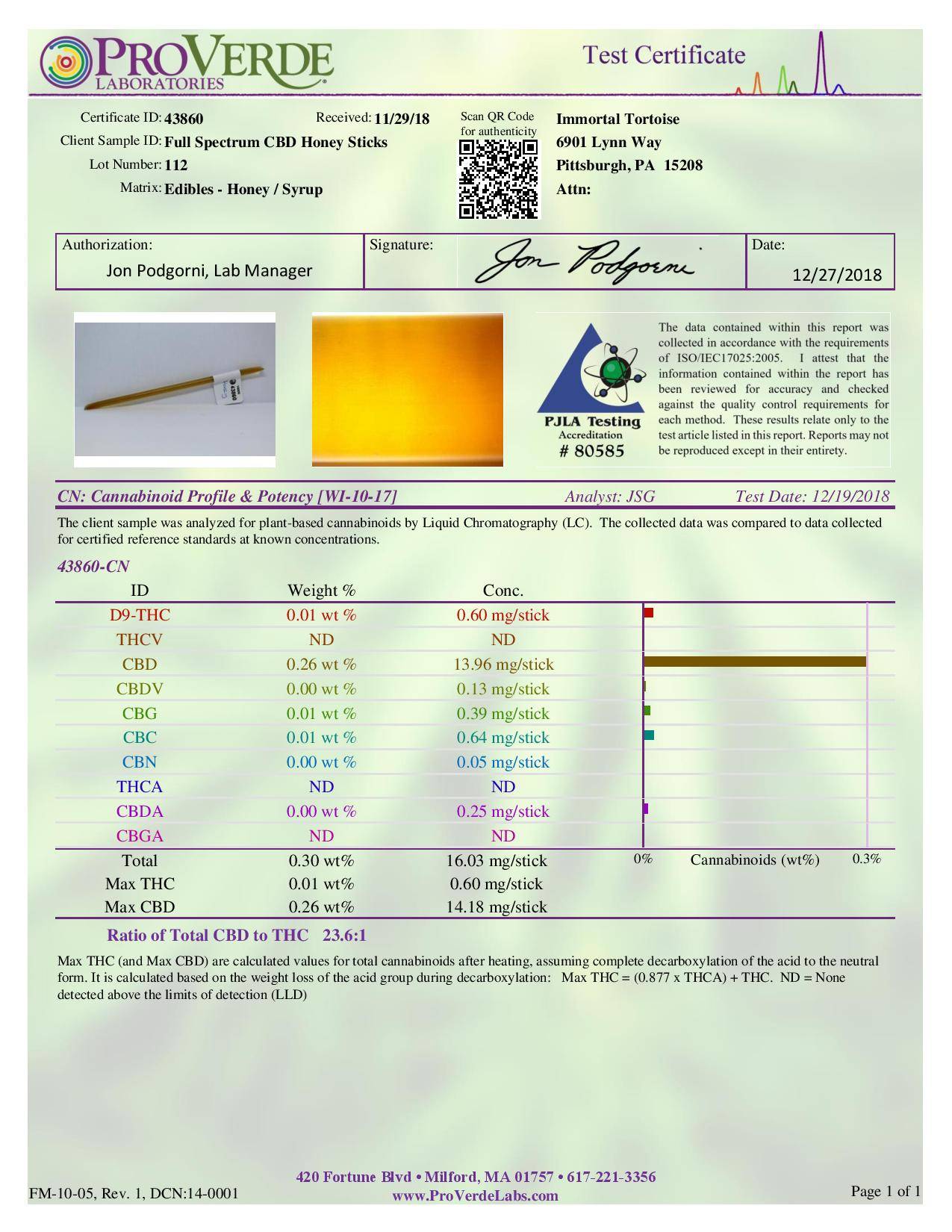 ---
CBD
14.18 mg/stick
Our hemp plants are chosen for their high CBD content and medicinal effect
Properly Decarbed
High percentage of bioactive cannabinoids compared to carboxylic acids (CBD instead of CBDa)
THC .3% or Less
.60 mg/stick
True full spectrum hemp extracts will have trace amounts of THC at 500mg od CBD or higher. Less than .3% meets federal legal standards for hemp.
Scannable QR Code
Scan QR code to verify the cbd honey lab results with ProVerde labs. Other sellers will fake an image of this but cannot fake a scannable code!
PJLA Certified
3rd party lab is accredited according to internationally recognized standards of excellence. Can be verified on PJLA website.
Full Spectrum
Not a chemically extracted cannabidiol. Full spectrum extract means a variety of supportive cannabinoids such as CBD and CBG maximum "entourage effect."
---
At Immortal Tortoise we follow rigorous quality control guidelines and utilize professional 3rdparty lab tests. We do this because our goal is to provide the very finest high-quality full-spectrum lab tested full spectrum hemp products for sale on the market today.

Our CBD products are tested by ProVerde Labs and we publish unredacted test certificates right here on our website.


No additives, artificial flavors, solvents, or fillers. Just pure medicinal hemp in BPA-free packaging.  
---
At Immortal Tortoise we put all of our products through on-site gas chromatography followed by rigorous 3rd party testing to ensure safety, purity, consistency, and efficacy.
We always publish our original 3rd party lab results right on our page.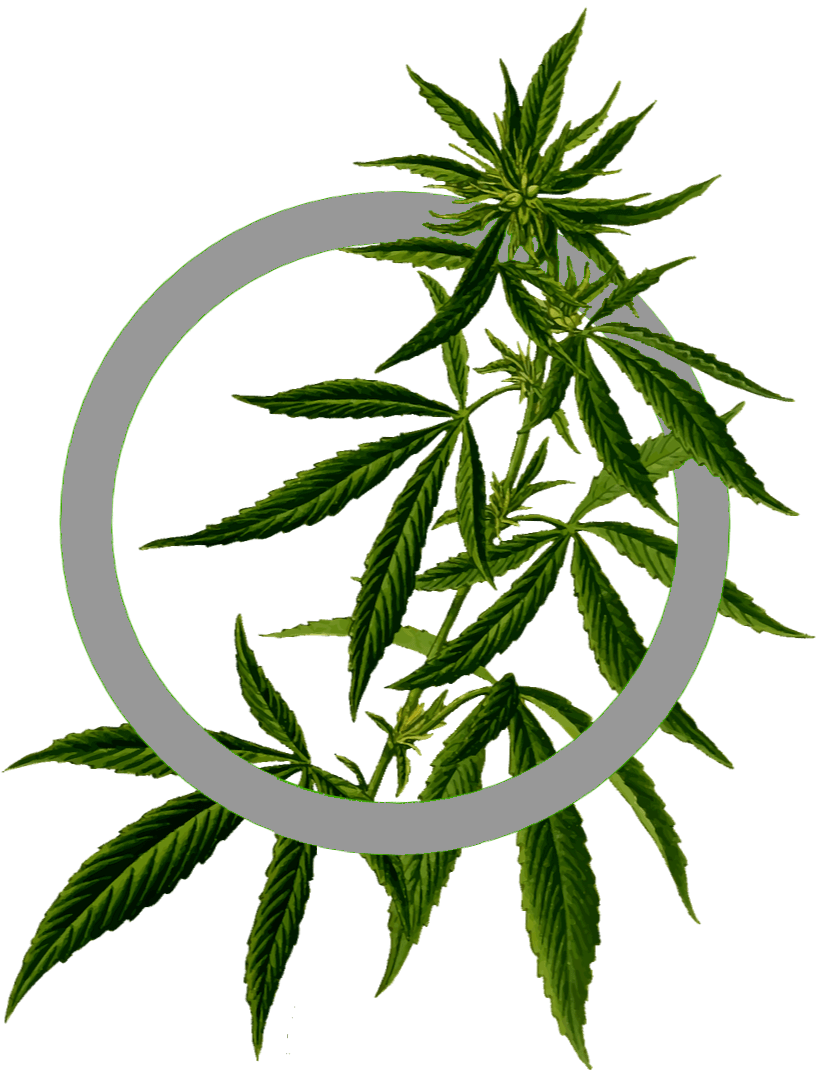 Medical Grade Full Spectrum Hemp
Medical quality hemp grown in food-grade conditions. Extracts contain the full spectrum of medicinal cannabinoids, terpenes, and flavonoids including CBD, CBG, CBC, and trace amounts of THC (below .3%) for a full "entourage effect."
---
Lovingly crafted in Pennsylvania from sustainably and organically farmed Colorado hemp.
---
Why we choose ProVerde Labs:
Technology
ProVerde utilizes leading-edge technologies to yield the most reliable analytical results available. They also have a focus on green technologies, and their analytical testing generates 100 to 500 times less hazardous waste than conventional analytical methodologies.
Accreditation
ProVerde is Perry Johnson Laboratory Accredited in accordance with the international standard ISO/IEC 17025:2005. What this means to us is that we can verify that ProVerde's qualifications an internationally recognized outside organization. You can go to www.pjlabs.com and verify ProVerde's accreditation no. 80585 with them.

Transparency
Anyone with a smart phone can verify our CBD lab test results by scanning the QR code at the top of our lab certificate. You'll be taken to a page on ProVerde Labs' website NOT just a copy of our lab certificate hosted on our website. We cannot edit or alter this page ourselves. These results cannot be faked.
Other Lab Tested Products
---
CBD oil is an extract of cannabis that is high in the exogenous cannabinoid Cannabidiol or CBD.

To produce our CBD oil, we begin by sourcing premium hemp grown in small batches according to medical grade standards. We select strains that are naturally high in CBD and low in THC. The result of this careful curation is the ideal cannabinoid and terpene profile for medical grade CBD oil.

On-site at our Colorado production facility we run high pressure liquid chromatography tests on our dried hemp buds to make sure there are no heavy metals, bacteria, molds, or pesticide residues and to determine the cannabinoid profile. We run an additional lab tests after our first extraction to verify CBD potency.

Our hemp plants go through a cold extraction process using food-grade kosher 190 proof alcohol. We believe this is the best CBD extraction method because the low-pressure process preserves the supportive cannabinoids and terpenes. Our lab tests verify that no alcohol remains in the final product.

We choose alcohol cold extraction over CO2 extraction to preserve delicate terpenes and provide a true full-spectrum pure CBD oil with a maximum "entourage effect." Products with a full profile of supportive cannabinoids and terpenes are the best CBD products for anxiety and most effective CBD products for pain available.

Finally, prior to bottling, we send samples of our CBD oil to ProVerde Labs. We publish those 3rdparty results right here on our website. We choose ProVerde because you can verify their lab results by scanning the QR code at the top of the lab certificate.

Full Spectrum CBD oil test results are especially important to ensure that each product contains less than .3% THC so that they are legal for retail in all 50 states. We don't remove or destroy any of the cannabinoids from our full spectrum CBD extract.

Hemp honey is a mixture of our full spectrum CBD oil and raw honey.

"Raw" honey means that the honey has never been heated above 140 degrees. Our honey has only been warmed enough to allow it to flow into our honey sticks. It has not been pasteurized or filtered (other than a single pass through a strainer to remove beeswax and particulates.)

Our process keeps the beneficial pollen, enzymes, polyphenols, and antioxidants of the raw honey intact to deliver the most medicinal benefits.

Fun Fact: honey never goes bad!

They have found pots of honey in ancient Egyptian tombs that would still be safe to consume today.
Because our honey is raw and unrefined you may see some crystallization or separation. If so, just run the stick under warm water for a few seconds and squeeze it to soften it up.

As you can see this lab tested CBD hemp honey contains legal trace amounts of THC.

While drug tests usually won't return a false positive for such a low concentration of THC it is not impossible and we cannot rule it out. Use this product at your own discretion.